How to make Bowl Maggi!

Welcome to SHIV's ULTIMATE GUIDE TO MAKE BOWL Maggi!
My friends have always been asking me what's the secret recipe behind tasty bowl Maggi that I make. So, on this fine day, I decided to share my recipe for making Maggi in a bowl!
Disclaimer:
You don't have to follow some of the steps shown in this article, as they were made purely for entertainment.
Things you'll need:
Maggi pack (Worth ₹12 at the time of writing this article).
A bowl.
A spoon/fork.
Kettle to boil the water.
Del Monte Tomato Ketchup (not mandatory).
Step 1:
Wash the bowl, wash the spoon. Keep the spoon in the bowl. Keep the bowl on the table.
It should look like this.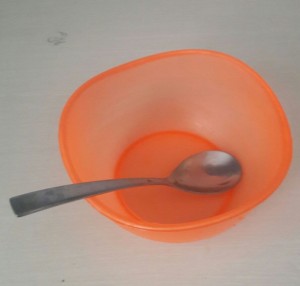 It should look like this.
Step 2:
Take out your pack of Maggi.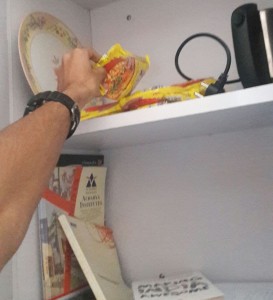 From a place like this
Step 3:
Break the Maggi pack into half vertically and horizontally before opening the pack.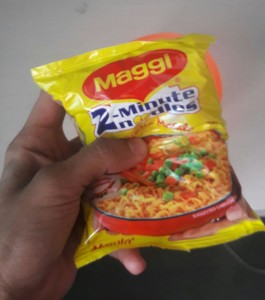 Like this.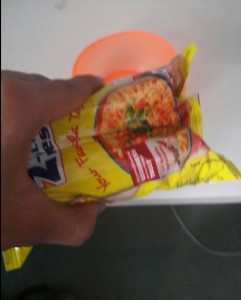 And this.
Step 4:
Open the pack. Keep the masala aside. And put the Maggi in the bowl.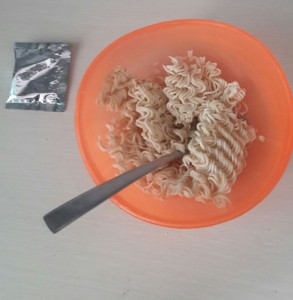 Make sure all the raw noodle cakes are of single layer.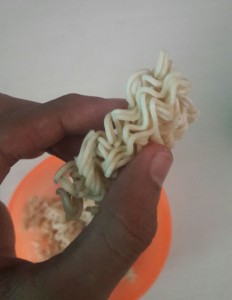 Like this
Step 5:
Pour the masala into the bowl.
Like this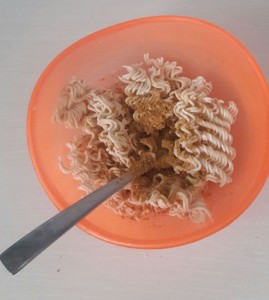 Bowl raw Maggi ready! (half way there)
Step 6:
Take out your kettle (wash it) and put some fresh drinkable water into it.
About 300 to 400 ml of water is fine.. (400ml for extra soupy Maggi and 300ml for soupy Maggi)
If you don't want it soupy.. I'll tell you what to do later.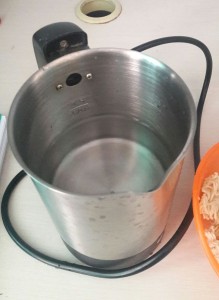 Step 7:
Plug the kettle and let the water boil.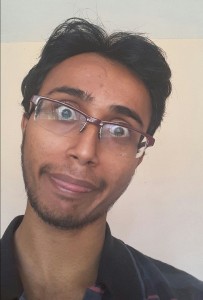 Make sure your face looks like this when you wait for it to boil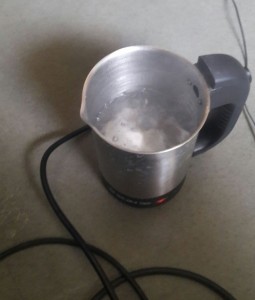 Once it starts boiling leave it for 10 second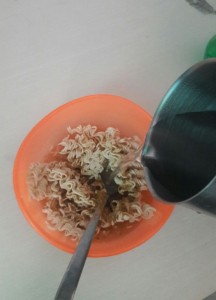 Pour all water
Step 8:
Mix masala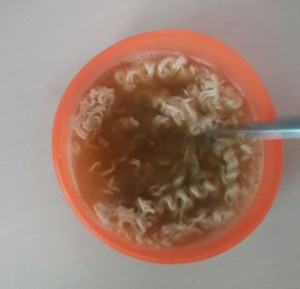 Turn spoon in circular way for 10 seconds
Make sure all noodles are immersed in water
Step 9: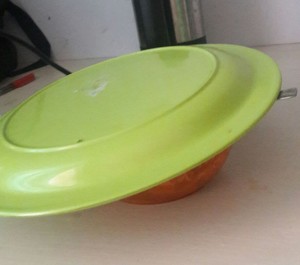 Keep a plate or a book on it
Step 10:
Wait for about 3 to 5 minutes.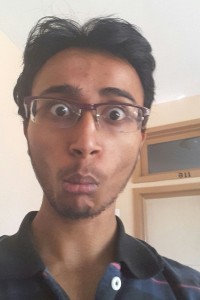 Make sure your face looks like this while you wait this time.
It's always good to make sure everything is immersed when the time is half way through.
(at about 1.5 minutes)
Use this time to keep the kettle back at where it was.
You don't have to wash it.. (that's the best part of bowl Maggi)
Step 11:
Time is up!
Take off the plate and look at the Maggi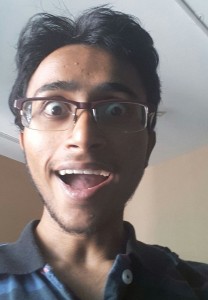 Like this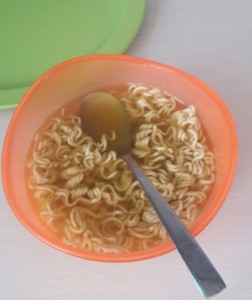 Step 12:
Suggested garnishing.
I'm going to use Del Monte Tomato Ketchup.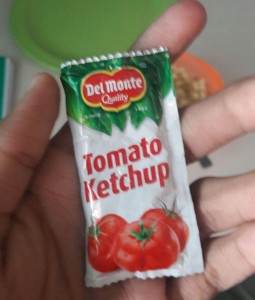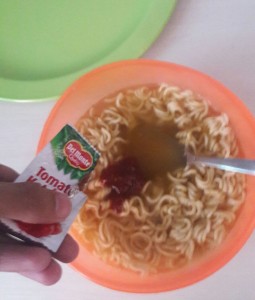 Now mix the sauce by rotating spoon in circular fashion for 10sec
This will turn your average Maggi soup into tomato soup!
Keep the plate aside
BOWL Maggi IS READY!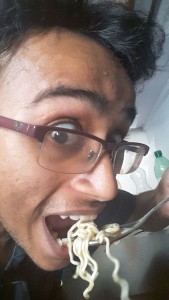 Eat it like this with Maggi tomato soup ;)
Note:
If you don't like soupy Maggi you'll have to drain the water.
Conclusion:
If you want to save yourself from washing the kettle or making it a mess.
Then bowl Maggi is perfect for you.
Hope this tutorial made your life easy.
If you enjoyed this article as much as I enjoyed writing it, please share it with your friends.
All comments are welcome :)
Written on December 19, 2015